hummern4 wrote:Could anyone tell me how the back of the "skirt" is put together in the movie? Is it a seam in the back or is it three pieces or?
I seem to somehow have managed to overlook this post back in October, hope it's not too late...
Based on this screenshot: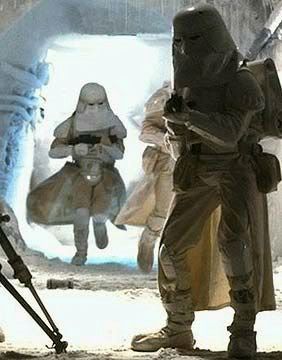 (Larger image
HERE
)
...I think the "skirt" on the duster is three parts: One single layer of fabric in the back; and one panel, doubled up, on either side. See the differences in transparency on the duster of the trooper on the right, closest to the camera? I have a three panel design on the skirt of my duster, and it also helps prevent the duster from flopping around too much, as the doubled up panels on the sides add some extra weight to it.
This is not a requirement for approval, though, so you don't have to worry about that if you chose a different design!